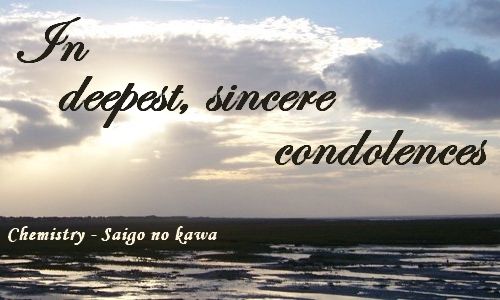 Idea:
xkeirafanx
Song suggestion:
rinzhen
Coding:
Sai
Mixing:
Almighty Cho
Participants:
Yukidama, Firefly, rinzhen, Kia~, 21ssk, Almighty Cho, Sai, xkeirafanx
Dearest Joji,
this cover is from all of us for you as means of showing our condolences to you and your family on your father's passing. Neither of us can be locally there for you, but through this we want to show you that we have been there in spirit with you from the moment you told us, to the preparations and time of funeral and all this time after, some of us even during the last critical weeks when he was in hospital.
You have been very strong the last weeks and months and I am very proud of you that you are coping so well. You are a dear friend and virtually I, the people of this project and I am sure all #BRIANS too, send you a huge, warm, cuddly, tea-and-cookies hug and words of condolences and encouragement.
It would have been pleasant to meet your father in person and although we will not have the privilege, I am sure he was a great man who loved you a lot.
This song is not just a random ballad. We all felt the music video and the lyrics apply for you and to your situation. I know your Japanese is quite good, but just in case you can find the translation
here
and the MV on
this page
(warning: tears inducing).
But first, have a listen at the bottom.
~ Meike